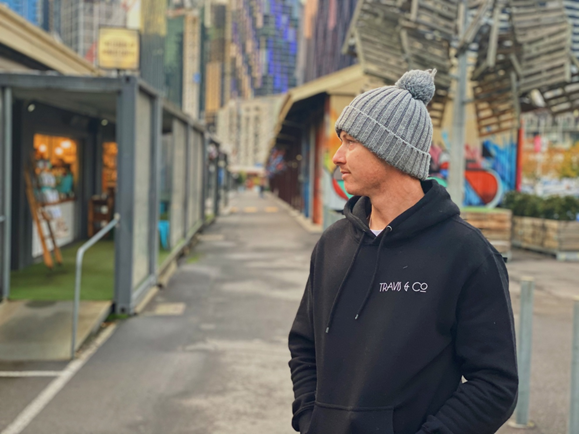 Travis & Co. Are Redefining the Hen's Night Experience.
Travis & Co. certainly aren't your normal business, and neither is their latest venture. Travis & Co, one of the leading hen's night & mobile cocktail catering companies in Australia, has made philanthropy part of their mission to serve the community. Since social events Australia-wide were cancelled by the COVID-19 lockdown, things weren't quite going to plan in 2020. Harnessing his creativity during this tough time, Travis & Co's Founder, Lewis Schenk, found a new way to expand the business' social impact.
One brisk April morning at Queen Victoria Market in Melbourne, Lewis was overwhelmed by the number of homeless people who approached him asking for money and food. He could see first-hand the loss in livelihood brought by the cold autumn months. After pondering what he saw on his walk home from the market, Lewis decided that he wanted to find a way to use his business to support those in need.
With winter months quickly approaching in Australia, Lewis decided to create a line of clothing to keep himself, and more importantly his community, warm and cosy. After the first batch of hoodies were created, things began to trend in the right direction. The high-quality hoodies were a hit amongst friends and family, which is when he decided to officially launch the apparel in May. Lewis decided that from that moment forward, 10% of all profits from Travis & Co hoodie sales will be donated to 300 Blankets, a Melbourne based charity which seeks to keep the community warm, primarily through providing the homeless with blankets.
Lewis and his team are excited about the future and will continue to seek out opportunities to support community organisations and their beneficiaries. "One thing I've realised is that every day we have the chance to create a positive impact in someone's life", said Lewis, "And no matter how big or small the gesture of kindness is, we never know how far it may go". Travis & Co. are as keen as ever to get out of lockdown and continue offering their clients unforgettable experiences and memories that last a lifetime.
The next release of hoodies is selling out fast! If you'd like to keep warm this winter while helping the less fortunate do the same, jump online to www.travisandco.com.au/shop to get yours today.
Follow them on Instagram @travisandco and Facebook travisandcoau to keep up-to-date on what they're doing, including all the latest giveaways & promotions they have on offer.
Source: https://medium.com/@jacari.jayzon/australian-entertainment-company-on-a-mission-to-keep-australia-warm-this-winter-21bad1c21955